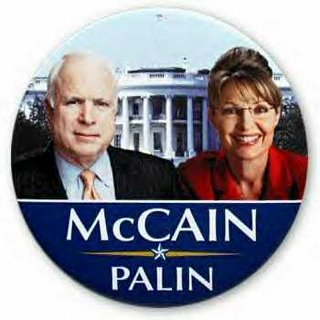 Boy, one misstep on the campaign trail and it's everywhere in 15 minutes. Sarah Palin knows that all-too-well with her most recent $150K wardrobe bill and Joe Biden is now understanding after his an attack is imminent comment.
The latest go-round comes from an NBC interview with John McCain and Palin. Brian Williams sits down with the two and asks the uncomfortable questions and from everything I've heard-- from people I know and Chuck Todd, NBC's political director-- it was like watching a slow death. The two lack any kind of chemistry and McCain seems to look very uncomfortable-- even angry-- when Palin is talking. According to one blogger, when Palin fumbles the number of Secretaries of State who have endorsed McCain he seems ready to choke her. (That comes in at about the 8:00 mark of the interview.) Chuck Todd goes as far as saying he wondered if McCain was blaming her for everything that's gone wrong with their campaign in recent weeks. (TIME's Mark Halperin scores the last 4 weeks for the Democrats.)
I don't see it. At least, not in this interview, I don't. I don't see his hatred or disdain for Palin like everyone else. Watch it and leave your comments, but maybe it was built up and there's something there, but I was just expecting much more. He doesn't look ready to come unhinged to me. Take a look.