Former Lions coach Rod Marinelli to chicagobears.com on being first coach to ever go 0-16:

"I wouldn't trade that last year for anything. It was one of my best years ever in football because you really find out what kind of coach you are. My goal was that we were going to finish everything we started: how we practiced, how we played, how hard we played, and we played hard. I had to find the guys who could hang on with me at the end."
We hired a guy who calls a winless season one of his best ever. Who in God's name is evaluating people in that organization?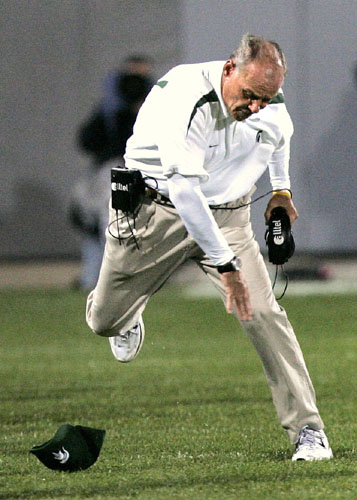 Former MSU coach John L. Smith after being introduced as new Arkansas head coach from a local news report:
"I'm excited and I'm fired up to be a Razorback!" Smith said with obvious glee. "So ... doggone it!"
Then after being asked if he kew how to call the hogs (an Arkansas staple):
"I grew up on a farm. So I know how to call the pigs, believe me. I've got 'Soooieeeee' down," said Smith, shifting his growling voice into a high pitch when he said the word.

Excitement, energy and, yes, maybe even a tad bit of lunacy was added to Arkansas' staff when Petrino tabbed his mentor as the Razorbacks' defensive assistant and special teams coordinator late last week.
Wow. It took the beat writers all of five minutes to figure out John L. You can read the whole article here.